The 1st Annual Pittsburgh Sakura Festival

On behalf of the Pittsburgh Sakura Project, I am writing to invite you to the First Annual Pittsburgh Sakura Festival, on Sunday, April 29, from 3:00 to 5:30 pm, at our planting site in North Park. This spring we celebrate our first four years of planting cherry trees. We are about half way to our goal of 250 cherry trees, with 133 planted, along with 73 native trees, in cooperation with Allegheny County's Tree Vitalize program. We also celebrate the 100th anniversary of the original gift of cherry trees from Japan to the US in 1912. Some of these trees still grace the Tidal Basin in Washington DC. We are fortunate to have received a centennial gift from the Japanese Embassy of three young cherry trees that have been grown from cuttings of those original trees (these trees, still too small for the park, are now under the care of Eisler Nurseries).
The Sakura Festival is made possible through the generosity of many organizations and individuals. We are grateful for a grant from the Japan Foundation, New York. With the grant and also with contributions from various local schools and colleges, we are able to bring Mr. Takumi Kato, winner of the Tokyo International Taiko Competition, from Japan. Local restaurants and businesses have donated gift certificates for the raffle and food for the festival, and several corporations and individuals have given money specifically to cover the festival expenses. There will be a full listing of Sakura Festival sponsors in the program distributed at the festival. In addition, volunteers will perform music, run activities, and lead Japanese folk dancing.
The only things that will be missing from the festival are actual cherry blossoms (they bloomed early this year, by the end of March) and actual tree planting. Due to the unusually warm weather, we had a small spring planting effort on March 24 and 27. Our next major planting day will be Saturday, November 10, 2012. I hope you can join us at the First Annual Pittsburgh Sakura Festival in the afternoon on Sunday, April 29. We'll be waiting for you at the Latrobe Shelter, near the Boathouse, in North Park. See you then!
Place:Near the Boat House in North Park
Date:Sunday, April 29, 2012, from 3:00 PM to 5:30 PM
Event:Planting 3 ceremonial young cherry trees and 3 others, Taiko, Music Performances, Kite flying, Folk dance, Tea ceremony, Raffle, and more!
To register as a volunteer, please send an email to Yoko Motoyama, at yokohm@gmail.com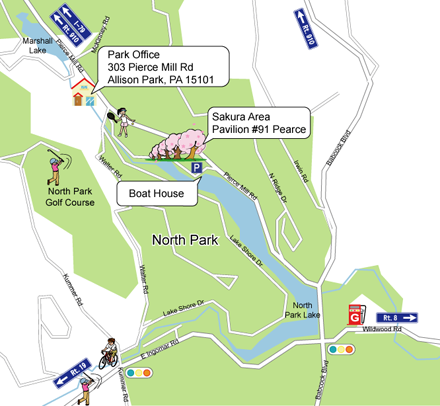 ☆Pittsburgh Sakura Project assumes no legal or financial liability for accidents or injuries during and after this event.
To make a tax deductible donation to the Pittsburgh Sakura Project, please click here to download the form, and please mail, with a check payable to "Pittsburgh Sakura Project"
to: Pittsburgh Sakura Project c/o Fumio Yasuzawa,
2032 Murray Ave, Pittsburgh, PA 15217